as seen in the GazetteLeader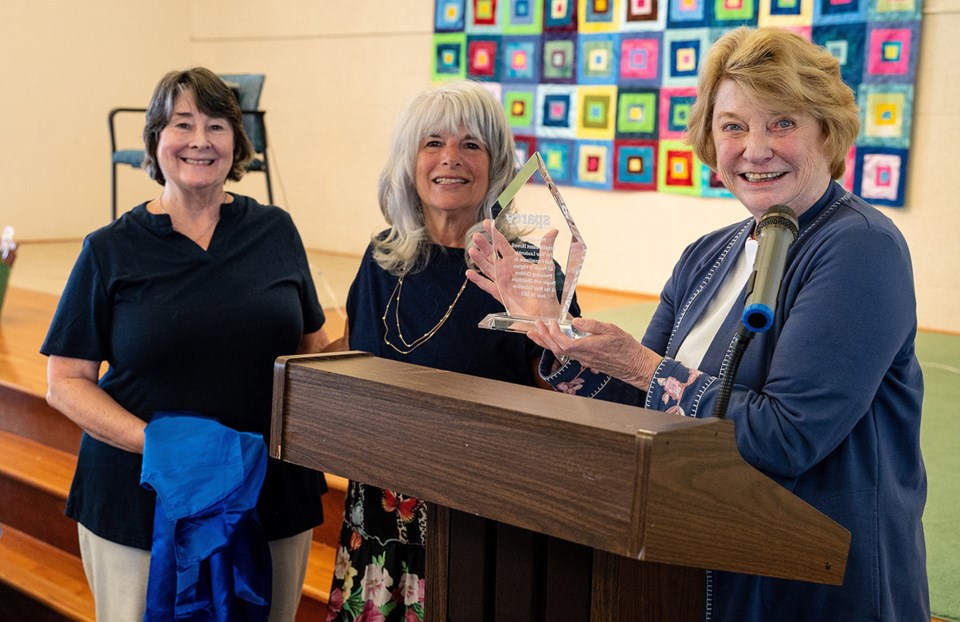 Retiring state Sen. Janet Howell was honored with the Hero Award at the second annual pancake breakfast presented by SPARC, a Fairfax-based non-profit that provides day programs for adults with disabilities.
Howell was honored for her significant and ongoing support of SPARC and the people it serves. She "is credited with major legal reforms to overhaul Virginia's family-violence laws to protect children from sexual predators," the organization noted. "In addition, she spearheaded the mental-health-law reform in the Senate and serves on the Mental Health in the 21st Century Commission."
The breakfast, held June 10, raised nearly $18,000 in support of SPARC's missing. In addition to Howell, Del. Ken Plum received a distinguished service award for his many years of service to the commonwealth and those in need.
"Bringing people together for a great cause and a stack of pancakes symbolizes community. Both Sen. Howell and Del. Plum embody that spirit. Their actions and years of service have lifted our SPARC participants and their families in ways that are immeasurable," said Debi Alexander, the organization's executive director.
Held at the Church of the Good Shepherd in Vienna, the well-attended morning event brought together several hundred hungry supporters. Funds raised will support SPARC's unique program serving young adults who have aged out of the special education support provided by the K-12 system and are not eligible for other community-based programs that serve individuals with severe disabilities.
Started nearly 20 years ago, SPARC hosts centers that operate five days a week at various county locations in Fairfax and Arlington, with staff-led programming based on a curriculum rooted in therapeutic-recreation principles that consist of continued education/leisure learning, skill-building, exercise, excursions, cooking, music, art, lectures, discussion groups and more.
"SPARC's clients require support with daily living activities, and without SPARC they are often neglected and forgotten," the organization noted.
SPARC's annual cost per participant is $9,000. If the SPARC participant instead attended a Medicaid provider, the taxpayer cost would average $39,000 per year.